Experienced Western Wear Retailer Masters FBA With Automation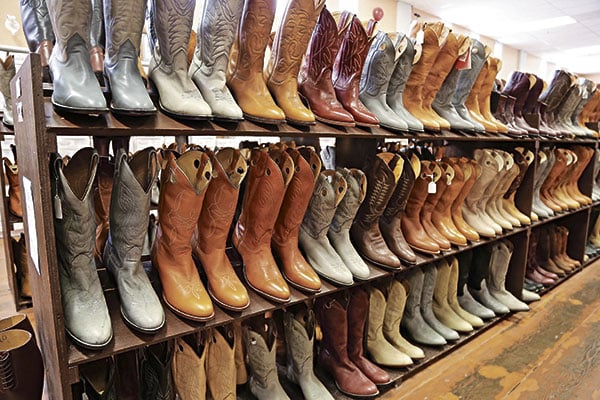 In 2012, Jerry Kavesh was running a successful western-wear retail business and coming off his best year ever. That's when he decided to close the business.
Because while almost half the sales were coming in online, the brick-and-mortar stores were projected to lose money and he wanted the 62-year-old family business to end on a positive note.
He got out of retailing. Joined a start-up. Didn't give his past life of selling cowboy boots, Stetson hats, western shirts much thought.
Then, one night, while browsing Amazon, he noticed that several of the best-selling SKUs from his former retail business weren't even listed on Amazon.
"I contacted my former supplier and got permission to test five or six SKUs during the 2013 holiday season," Jerry recalls. "They sold so well I just knew I had to grow it." He called his new business Western Outlets and Jerry was back in the saddle again. Western Outlets now carries more than 14,000 SKUs sold through Amazon, eBay, Shopify and soon Wal-Mart. Fulfillment is mostly through Amazon FBA, but he's in the process of working with Etail to integrate with a 3PL to handle his expanding eBay, Shopify and Wal-Mart businesses.
As an experienced retailer, Jerry knew the value of retail and inventory automation systems, but the system he was using couldn't handle the challenges of online, multi-channel fulfillment.
"I'm a big believer in systems and processes," Jerry said. "I'm all about efficiency. It soon became very apparent that as my business grew, just using spreadsheets and Amazon reports was not going to work."
Serious about getting the best system to scale with his growth plans, he hired a retail systems consultant to help him choose the best ecommerce management system for his needs.
They chose Etail Solutions.
"I was looking for something that would scale with us and would be the best all around solution, not a couple of solutions that I would have to piece together," Jerry said. "I liked Etail's design philosophy of a solid core data set that drove data throughout the system. I was very concerned with data integrity. Other systems needed you to enter the same data in multiple places and that always leads to mistakes."
Since implementing the Etail platform in 2015, Jerry said his sales increased by 450% – all with only one full-time employee and a handful of overseas virtual assistants hired when needed.
"It's allowed me to scale, pure and simple," said Jerry. "More importantly, it's allowed me to scale efficiently and profitably. Efficiency equals profitability in this highly competitive, low margin business."